Hetzner offer very well specified physical servers at extremely low prices. I've used them for many years and they've proved to be extremely reliable. With each server, Hetzner will give you a single IPv4 IP and a /64 IPv6 subnet. You can also run virtualization software such as Proxmox and it's often desirable to run a firewall such as pfSense on a virtual machine to protect the other virtual machines.
All good in principal, but the /64 IPv6 subnet has caused some confusion. Surely you need some more address space to be able to route the /64 subnet? It turns out, no. Hetzner don't use NDP or proper IPv6 routing… they seem to just deliver the address space to the server (probably via static NDP entries mapping your /64 to your server's MAC address). This actually works to our advantage because you do not need to assign the physical server any IPv6 addresses in the issued /64.
Broadly, the setup looks like this:
Physical server does not have an IPv6 address assigned to its physical interface
Physical server has IPv6 forwarding turned on
Proxmox (thus the physical server) has a private IPv6 address assigned to the bridge (vmbr) interface that it shares with pfSense
pfSense WAN interface has another private IPv6 address in the same subnet as the vmbr assigned to it
pfSense "LAN" interface has an address from your public /64 assigned to it
pfSense uses SLACC to assign IPs in your /64 to the VMs behind it
Physical server has a route to your assigned /64, via the private IP you assigned to your pfSense WAN interface
Physical server has a default IPv6 route to fe80::1
Here's a picture where the assigned /64 is 2a01:4f8:66b:12d9::/64 and the private IPv6 /64 used between Proxmox and pfSense has been chosen fairly randomly using this: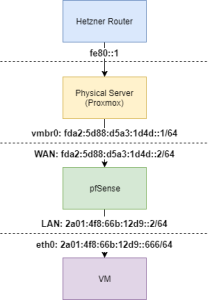 Here's the relevant parts of the network config on the physical Proxmox server:
If you have any questions, leave a comment.
The MX series routers are truly excellent. As well as being used for routing, they can also be used for switching. Switches do routing, so why not the other way around… right?
A basic switching setup on an MX is a VLAN bridge. Take the following config. It is akin to setting 2 802.1Q trunk ports on a switch, both in VLAN 66:
Here we have 2 interfaces, both with a unit that matches traffic tagged for VLAN 66. The bridge domain sends layer 2 traffic between these two interfaces, as if it were a switch.
Bridge domains on the MX inherently do what is called VLAN Normalization/Translation. When a packet enters an interface, its VLAN is normalized to that of the bridge domain. When a packet leaves an interface, its VLAN is normalized to that of the exiting interface. The above example has the same VLAN on both interfaces and the bridge domain, so let's look at a different example:
In this example, when a packet tagged VLAN 55 enters on ge-1/0/4, its VLAN tag is swapped for 43 because that is the VLAN ID of the bridge. When the same packet leaves on ge-1/1/7, its VLAN tag is swapped again for 66 because that is the VLAN ID of the exiting interface.
As you can probably see, this is a silly example… the VLAN 43 is pointless here but it gives you an idea of what happens when packets traverse the bridge.
You can see this behavior when you do "show interfaces":
The key bit is the Flags line. You can see that input packets are swapped with VLAN 43 and output packets are swapped with the VLAN of the interface.
The above example shows you VLAN translation. In reality, you'd probably set the vlan-id of the bridge-domain to one of your interface VLANs or perhaps "none". In the case of setting it to one of your VLANs, you'd see no work done on packets coming into/leaving the interface with the same VLAN ID and a swap for both In/Out on the other interface. In the case of "none", the VLAN tag would be removed as a packet comes in and a new tag would be added when the packet leaves. This removal is called a "pop" and the addition as "push".
Another good example of the usage of this is to convert a double tagged (Q-in-Q) packet to a single tagged one. You might have a provider who is using Q-in-Q and you want to remove their VLAN (the S-VLAN) and use only your VLAN (the C-VLAN) on devices which are on the "other side" of your MX. Here's an example of that:
So here, we have a single tagged and a double tagged interface. The assumption is that the single tagged interface is facing our equipment (e.g. an SRX) and the double tagged interface is facing the provider. When double tagged packets from the provider enter on ge-1/1/3, the outer VLAN is removed (pop) because the vlan-id of the bridge domain is 601 – the same as the inner vlan-id. When packets leave on ge-1/0/0, nothing is done as the VLAN is already 601.
In the opposite direction, single tagged packets enter on ge-1/0/0. Nothing is done to them because the vlan-id already matches that of the bridge. When packets leave on ge-1/1/3, the VLAN 255 is added (push). Here's what the "show interfaces" says:
See the push/pop on the double tagged interface and nothing on the single tagged interface.
If you set no vlan-id on the bridge-domain… you are then allowed to define input-vlan-map and output-vlan-map on the logical interfaces. This allows you to customize exactly what happens in ingress and egress packets, rather than taking the default behavior as explained above.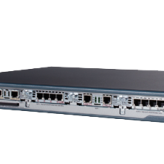 Anycast, at a very basic level, is when a collection of servers share the same IP address and data is sent from a source computer to the server that is topographically closest. It is important to remember that topographically closer does not inherently mean geographically closer, though this is often the case.
Anycast is used primarily for load balancing to allow the server topographically closest to a user to handle their request. This helps cut down on latency and bandwidth costs and improves load time for users.
Anycast is linked with the Border Gateway Protocol. This is a protocol used between routers on the Internet with the intent of ensuring that all of a router's neighbours are aware of the networks that can be reached through that router and the topographical distance to those networks. The principal of Anycast is that a single IP address is advertised in the BGP messages of multiple routers. As this propagates across the Internet, routers become aware of which of their neighbours provides the short topographical path to the advertised IP address.
IP addresses used in Anycast are often purchased directly from a Regional Internet registry. Some data centers are known to rent IP addresses to customers and allow them to be advertised by other data centres.
As with all routing, it cannot be guaranteed that a packet will take the same path across the Internet as its predecessor. With Anycast, it cannot be guaranteed that a packet will reach the same destination server as its predecessor. As such, Anycast is not suitable for protocols which track state. TCP is an example of one of these. UDP, however, is perfect for Anycast providing it does not try to track state at a higher level of the OSI model and that the application layer protocol does not rely on a large number of fragemented datagrams to transfer data.
The typical scenario for Anycast as a load balancer is thus:
A server in London has its own IP address 3.3.3.3 and a shared Anycast IP address 1.1.1.1.
A server in New York has its own IP address 4.4.4.4 and a shared Anycast IP address 1.1.1.1.
Each of the above servers runs a DNS server listening on 1.1.1.1.
The DNS servers serve up an A record for anycastdomain.com. London would serve up 3.3.3.3 and New York would serve up 4.4.4.4.
When a DNS request is made for anycastdomain.com, Anycast would route this request to its topographically closest DNS server. This DNS server would, in turn, serve up the unique IP address of its own server and a TCP connection would be established over standard unicast.
Feedback from companies such as ScaleEngine is that it's quite difficult to persuade data centres to add IP addresses to their BGP. This appears to be best suited to larger organisations who lease their own transit and have BGP agreements with their transit providers.