Firstly… don't mistaken me for a shower expert, I'm really not – I just have a pretty crappy shower which I've taken apart a few times.
I have, for a while, had issues of getting up in the morning 20 mins before work starts and finding my shower doesn't have any water coming out of it. This has usually been fixed by taking the cover off and wiggling stuff around a bit. Recently it's been getting harder to fix (it's taken more severe wiggling). I narrowed the problem down to the solenoidWikipedia: A solenoid (/ˈsoʊlənɔɪd/[1]) is a type of electromagnet formed by a helical coil of wire whose length is substantially greater than its diameter,[2] which generates a controlled magnetic field. T... valve which electrically controls whether or not water flows. I looked on shower spares sites for a new solenoid valve for my Triton AS2000XT shower and was fairly settled on buying a new shower as the valves were near £120.
I thought I'd have a quick check on eBay to see if I could get a new shower or a solenoid valve on the cheap. I stumbled across a posting for a solenoid coil claiming that this is the biggest cause of low pressure or water loss in showers and that replacing just the coil would normally fix this. As the coil was less than £10, I thought I'd take a punt on it. Handily, this paid off. It seems that the solenoid coil in a lot of showers is very similar and the fitting instructions are near enough the same. It's probably best to ensure that your shower works with a particular coil before you buy it.
Here's my shower…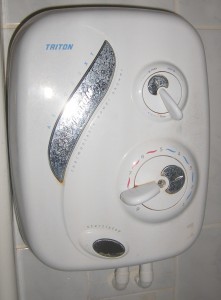 To open it up, I removed 3 screws – 1 on the top of the case, one on the bottom of the case and one in the middle of the temperature dial. Before you take the temperature dial off, remember where it is pointing. I tend to turn it to "1" before removing it. When you put it back on, ensure it points to where it was originally or your temperatures will be out of wack.
Ensure the power is turned off before you open the shower! It'll hurt.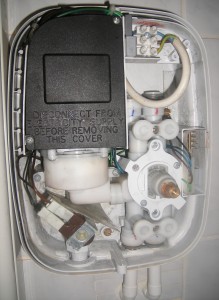 The solenoid coil is the brown thing in the bottom left of the picture. Remove the wires from it by simply pulling them off. They should just be slotted onto the spade connectors of the solenoid. This is a closeup of the disconnected solenoid coil.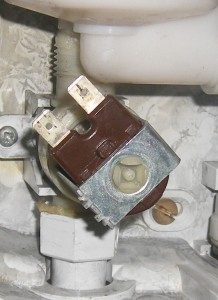 Removing it is a little tricky. It pulls off towards you (away from the back of the shower). Get a screwdriver behind it and gently leaver it off. Once it's off a little bit you can just wiggle/pull it off. Mine got stuck about 1/2 way down because of the winged plastic clip you can see in the photo. I applied pressure into the end of the clip to stop it from moving and wiggled/pulled the solenoid coil until it came off. The whole plastic rod that the solenoid coil slides onto seems a little flimsy so don't apply too much pressure as you may end up snapping it off.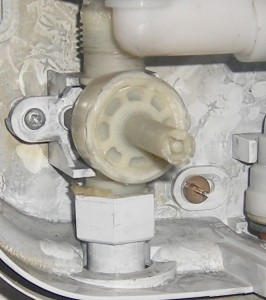 Once it's off, you can just slide the new one on and re-attach the wires. I lubed up the rod a little with some shampoo to allow the new coil to slide on a little easier. WD40 works too. I also used a small hammer to gently tap it on so as not to have to wiggle it and risk snapping the plastic rod.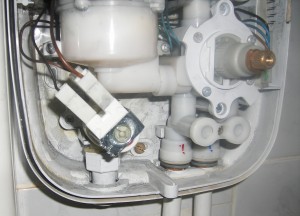 The shower sounds so much healthier after changing the coil and the water pressure seems boosted too. Hopefully it'll eliminate my early morning lack of water problems completely. Not bad for £10 and a 15 minute DIY job.
Edit @ June 2016
I've just had to re-replace the coil that I fitted when writing this article as the water stopped again. Just over 4.5 years later – that's not bad going. Image of the coil below. It's looking thoroughly rusted. I don't mind having to spend a few quid on a new coil every 4-5 years – it's better than a new shower.