I realise that the title of this article is a bunch of acronyms, but it's going to be informative none the less.
I've recently had installed, at home, a very high speed digital subscriber line 2Wikipedia: Very high-speed digital subscriber line (VDSL)[1] and very high-speed digital subscriber line 2 (VDSL2)[2] are digital subscriber line (DSL) technologies providing data transmission faster than the ea... (VDSL2). BT's fibre to the cabinet (FTTC) service is the basis of its BT Infinity service. BT do, however, resell this service to some less crappy ISPs. Mine is a business line provided by ISP Spitfire. Here's how it works:
BT Openreach will come and install a new faceplate on your socket. This stacks on top of your existing faceplate and has a cutout in the bottom so that the engineer does not need to disconnect any extensions you have on the socket. The installation is quick and was done within 5 days of booking it.
The faceplate is a filter which splits the phone signal as it comes into your house into VDSL2 and regular phone. It presents you with an RJ11 socket (not RJ45, as a lot of forums are saying) for VDSL2 and a standard BT 431A phone connector.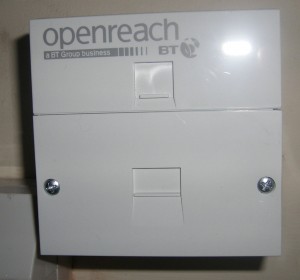 Inside the faceplate is pretty unspectacular. There's a 2 pin krone connector which you can use to carry the VDSL2 signal over twisted pair cable to another location. You'll see from the image that I have the browns of a cat5e cable connected in order to take the signal to a patch panel in another room.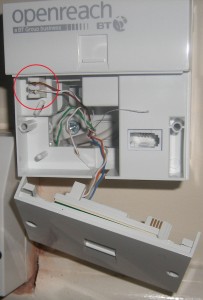 I have just connected this into a patch panel, to which I connect the modem.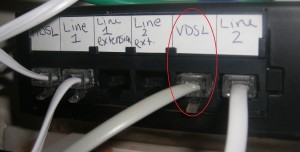 The openreach engineer with also install a modem. The modem can wall mount and the engineer can leave you with a paper template to make this a little easier.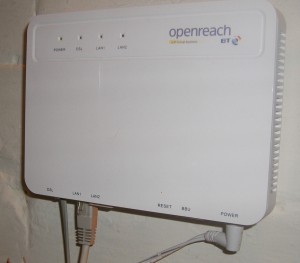 The modem presents you with an RJ11 to connect to the phone socket as well as an RJ45 LAN port.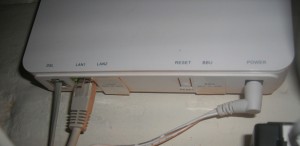 Once the LAN port is connected to a computer or router you dial your service using PPPoE. My cabinet isn't far away, and I'm getting pretty decent speeds. My upstream is a little lower than it should be and I plan to query this with the ISP.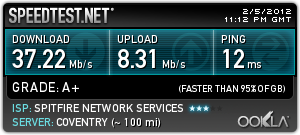 Update @ 2013-03-29. An upgrade!