Chest freezers are ugly beasts. If you don't have an appropriate garage or other outbuilding then you're stuck with keeping it in the house. Building a cabinet around it so it blends in with the rest of the kitchen helps to hide it well.
Finished Cabinet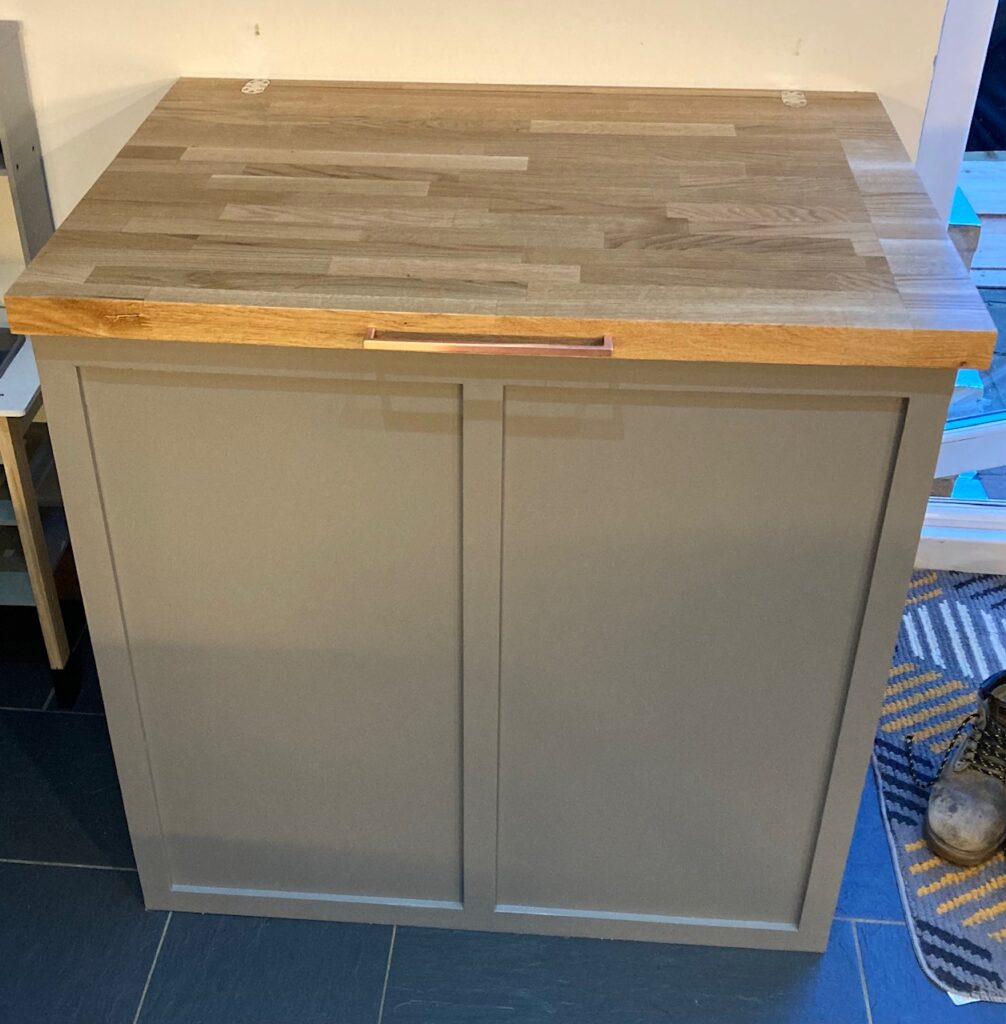 Freezer
The freezer this cabinet was designed for is a Fridgemaster MCF198_WH Chest Freezer. It was £199 (before any discounts) at time of writing.
CAD Drawing
You can download the .skp file to import into SketchUp here: https://phil.lavin.me.uk/downloads/Freezer-Cabinet.skp
Handle
Because the lid is fairly heavy and the handle is a standard cupboard handle which screws in from the back, I had to modify it slightly. I drilled out the screw holes on the back of the handle to 5.5mm and then tapped them to a 6mm thread. I screwed 6mm threaded rod into this hole, approx 25cm long, then drilled 6mm holes about 25cm deep in the front of the worktop. Gorilla glue was applied into the worktop holes to fix the rod in firmly.
Lid Opening Mechanism
As the wooden lid opens, it also needs to lift open the lid of the freezer. This requires a sliding mechanism between the two lids. They are "Connect Fitting for Integrated Appliance Cabinet Doors". Here's what one looks like:
The idea is to allow the lid of the freezer to slide towards the back of the wooden lid as it lifts up. Here's what that looks like, in practice:
Construction Photos
Materials
The cabinet is made from the following materials:
Frame: 40mm x 40mm planed square edge timber
Panels: 18mm MDF
Lid: 40mm white oak worktop
Hinges: HAFELE Folding Table Hinges (Chrome)
Handle: Second Nature Yard Cupboard Handle (224mm centres / satin copper)
Paint: Johnstones Water Based Satin (mixed to Farrow and Ball "Mole's Breath" colour)
Top Oil: Base coat of Osmo Wood Protector (Clear), Top coats of Osmo Top Oil (Clear, Satin)